BANGKOK BED AND BIKE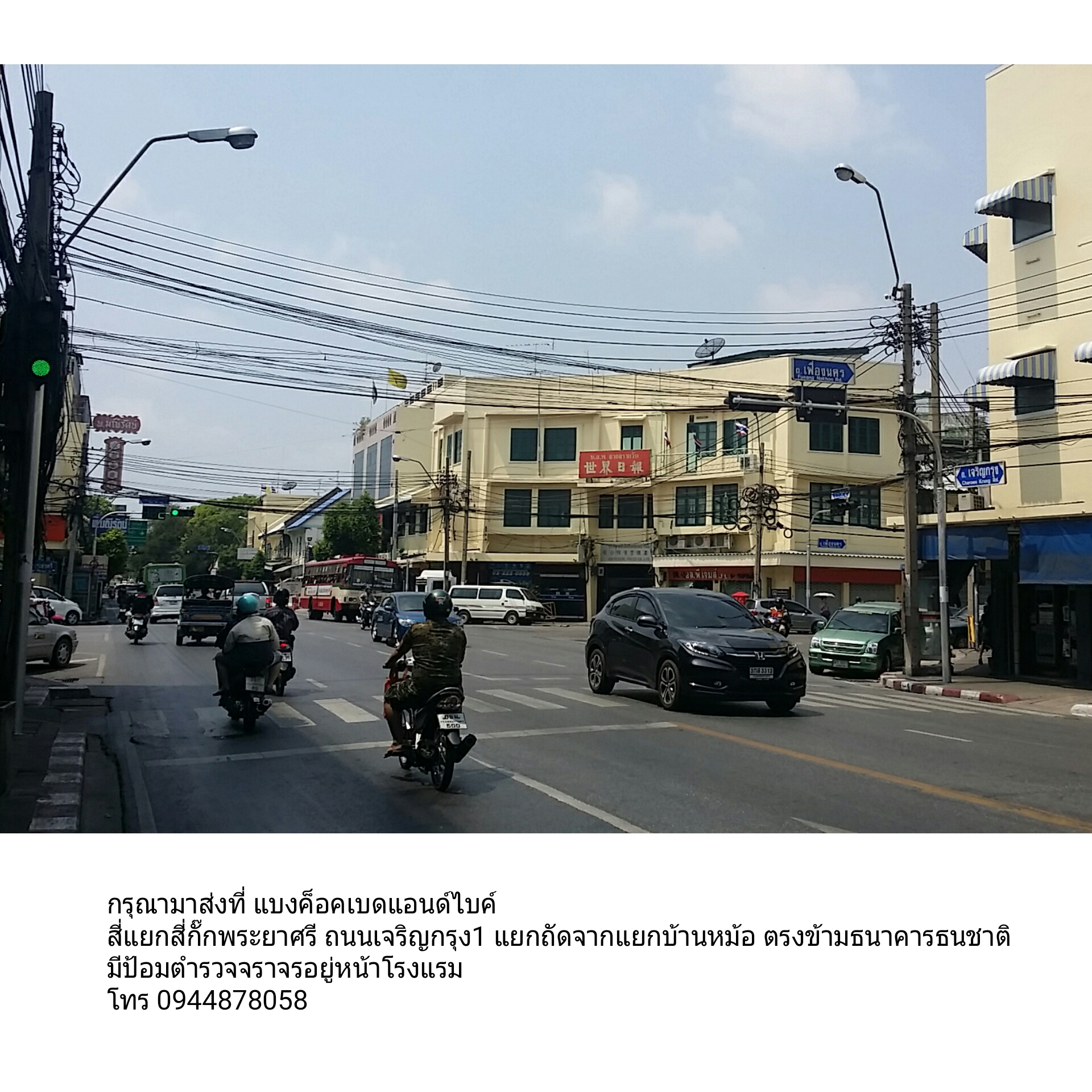 Bus number : 1 , 6 , 25 , 43 , 48 , Aircon 1, Aircon 7
( Get off at Si kak Phraya si intersection )

PLEASE PRESENT THIS THAI MAP TO TAXI DRIVER

กรุณา มาส่งที่ แบงค็อคเบดแอนด์ไบค์ สี่แยกสี่กั๊กพระยาศรี ถนนเจริญกรุง
สี่แยกถัดจากศาลาเฉลิมกรุง มุ่งหน้าไปวัดโพธิ์ อยู่ขวามือตรงไฟแดง
มีป้อมตำรวจจราจรอยู่ด้านหน้า ฝั่งตรงข้ามธนาคารธนชาติ

***มาจากสนามบินให้ลงทางด่วนยมราช เลี้ยวซ้ายเข้าสี่แยกคอกวัว โฮสเทลตั้งอยู่ที่สี่แยกไฟแดงที่สองขวามือชื่อสี่กั๊กพระยาศรี ติดกับโรงพิมพ์
โทร 094-487-8058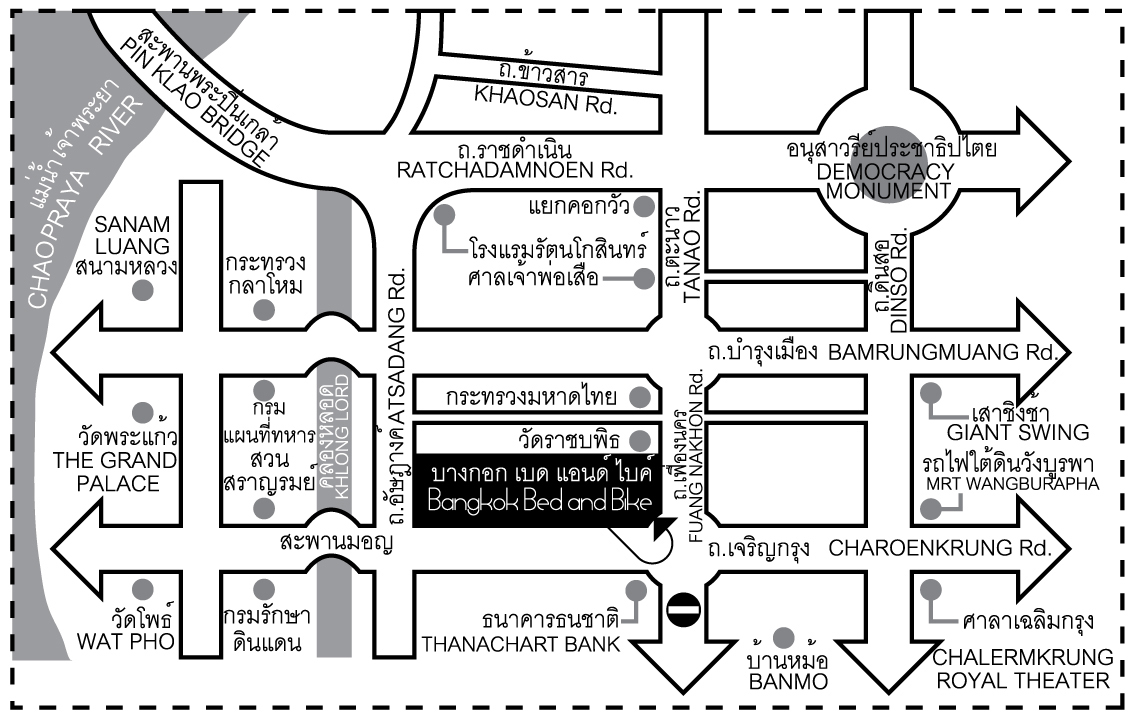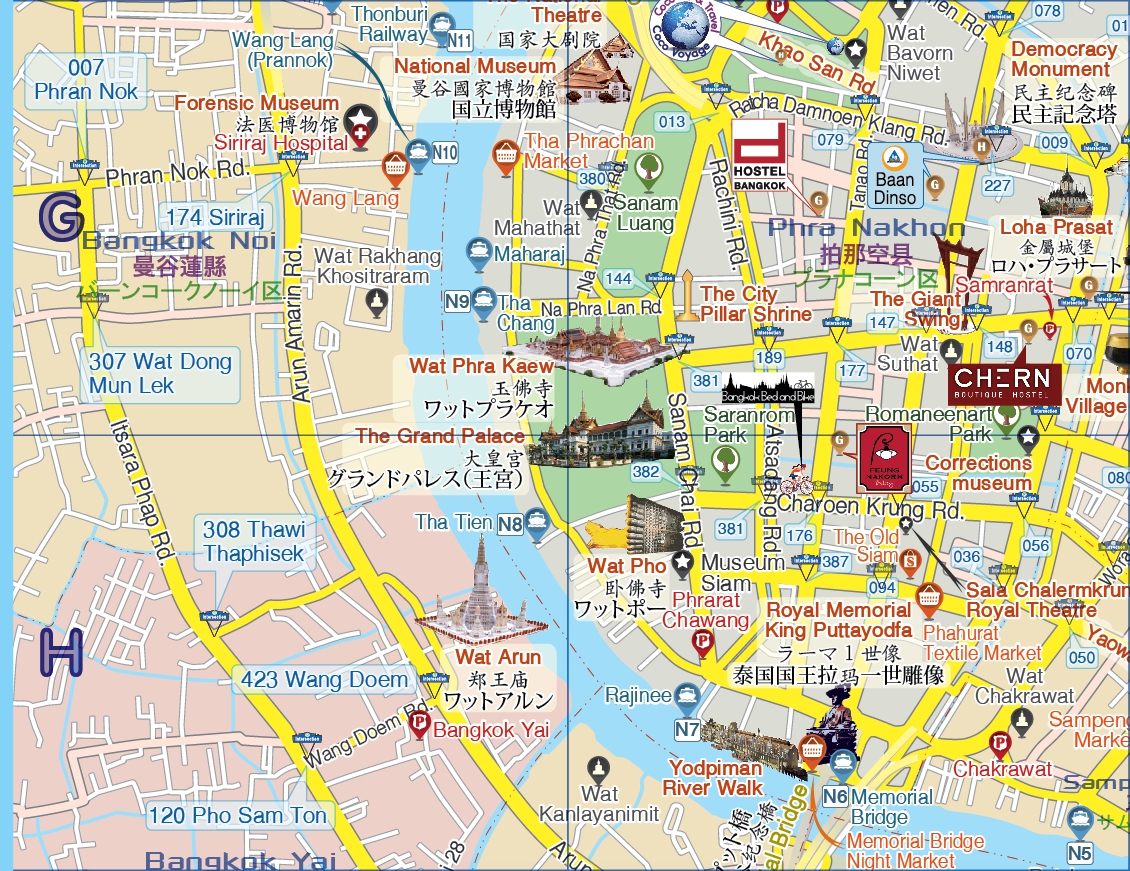 Traffic Directions
Fuangnakorn Road

: To Sikak Saochingcha

15 minutes walk to Khaosan Road
15 minutes walk to Rachadamnoen Road
15 minutes walk to The Giant Swing
20 minutes walk to The Golden Mount
20 minutes walk to The Metal Palace , Wat Ratchanadda
20 minutes walk to Democracy Monument
5 minutes walk to Ministry of Interior
2 minutes walk to Ratchabophit Temple
Charoenkrung Road

: To Chaloemkrung intersection

5 minutes walk to The Old Siam Plaza
20 minutes walk to China Town
20 minutes by taxi to MBK Center and Siam Paragon
15 minutes by taxi to Hua Lum Pong Train Station
20 minutes by taxi to Silom Road
20 minutes by taxi to The Asiatique riverfront
5 minutes walk to Wangburapha Subway Station
10 minutes walk to Khlong Thom Market
5 minutes walk to Pahurat Fabric Market
Ban Mo Road

: To Ban Mor intersection

2 minutes walk to the biggest electronic market Baan Mo
5 minutes walk to Flower market Pak Klong Talad
5 minutes walk to Wat Dibayavari Vihara (Thip Wari)
10 minutes walk to Saphan Phut Night Market
10 minutes walk to Yodpiman River Walk
Charoenkrung Road

: To Sapanmorn intersection

5 minutes walk to The Grand Palace
5 minutes walk to Wat Pho
2 minutes walk to Saranrom Park
10 minutes walk to Sanamluang
10 minutes walk to Bangkok Pillar Shrine
10 minutes walk to Wat Arun ( ferry required )
5 minutes walk to Sanamchai Subway Station
10 minutes walk to Museum Siam
How to get to the hostel
- From Suvarnabhumi International Airport (BKK)
Option 1 - Take an airport link (City line for 28 mins) to Makkasan Station and walk 1 min to Petchaburi MRT station on a sky walk bridge. After that take a subway to Sam Yod Station (BL30). From Sam Yod station, take the Exit 3 and walk 2 minutes toward Wat Pho direction. We are located on the Sikak Phrayasri Intersection. We are on the right hand side at the intersection of Fuangnakorn road and Charoenkrung road, opposite to Thanachart bank.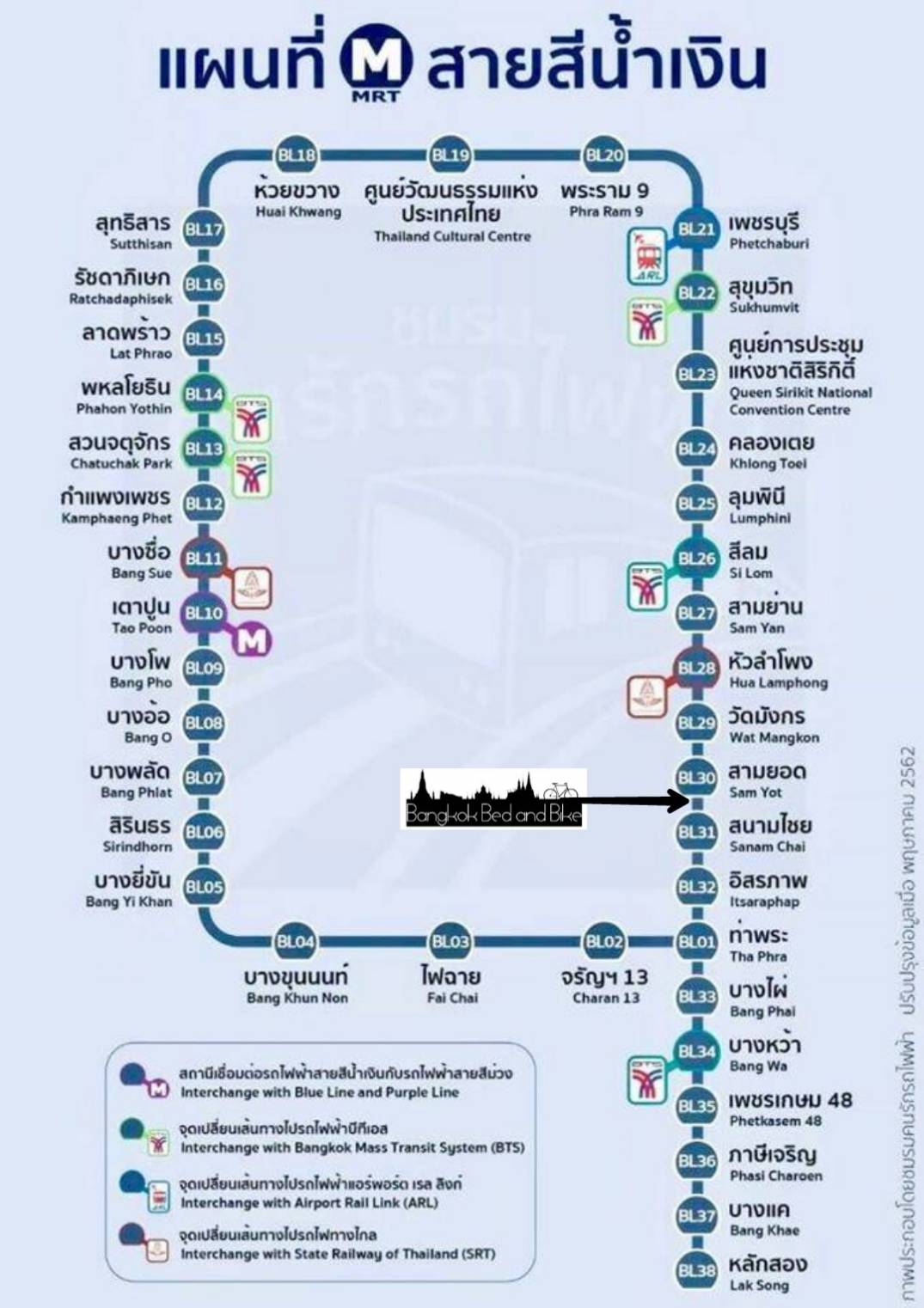 Option 2 - Take the airport shuttle bus no.S1 to Khaosan Road, then cross the Ratcha Damnern Klang Road to Tanao Road, walk about 15 minutes to Sikak Phrayasri intersection. We are on the right side of the intersection, opposite Thanachart Bank.
- From Donmueng International Airport (DMK)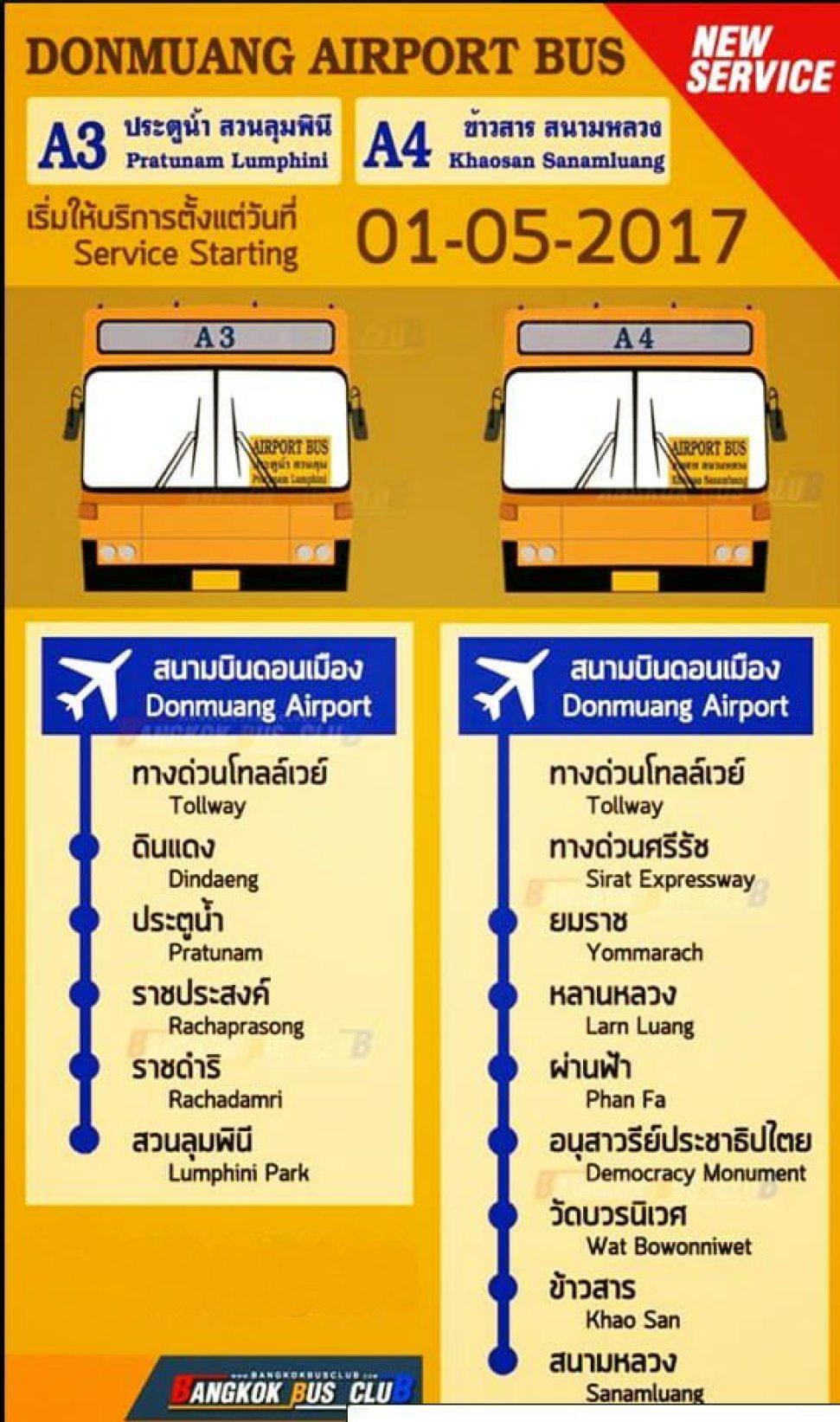 Option 1 – Take a local train from Don Mueng Railway Station which is located opposite to the airport to Hua Lam Pong Railway Station, then get on Bus 25 for THB 9 or a taxi for THB 100-120 to the hostel. This option is recommended during the busy hour as the traffic on the road is heavy.
Option 2 - City Bus A4 (7.00 am - 11.00 pm )
Donmuang - Khaosarn - Sanamluang (THB 30)
Then take THB 60-80 Tuk Tuk to the hostel or walk through Tanao road for 20 minutes.
**Taxi from both airports cost approximately THB 450-500 to the hostel. Ths should include all tolls and THB 50 airport surcharge. If the drivers do not use a meter, guest should not pay more than THB 500 in total. The price is for the whole car which is fit for 3-4 people.
- From Bus Terminal
1. Southern Bus Terminal or Sai Tai Mai (Serving Kanchanaburi, Phuket, Krabi, Samui, Koh Tao, Koh Phagan, Hua Hin and Hat Yai)
Taxi – THB150-200
2. Northern Bus Terminal or Mo Chit 2 (Serving Northern and Northeastern provinces include Chiang Mai, Chiang Rai, Sukhothai, Nong Kai, and Kon Kaen)
Taxi – THB150-200
Bus no.16 to Sikak Phrayasi
3. Eastern Bus Terminal or Ekamai (Serving Pattaya, Koh Chang, Trat, Koh Samet, and Aranyapradeth)
Taxi – THB150-200
BTS skytrain from Ekamai Station (Just next to the eastern bus terminal) to Asoke Station after that change to MRT from Sukhumvit Station to Hua Lam Pong Station, then take bus no.1 to the hostel (Get off at Sikak Phrayasi)
Airport Link (Suvarnabhumi airport)
Daily operating hours: 6.00 a.m. - midnight ( Ticket counter close at 11.30 p.m. )
Exit at Makkasan station and transfer to MRT Phetchaburi to take a subway to Sam Yod station.
City Line
Departs Phaya Thai (BTS) station and Bangkok Airport every 12-20 minutes. The train stops at Ratchaprarop - Makkasan - Ramkhamhaeng - Hua Mak - Ban Thap Chang - Lat Krabang and terminates at Bangkok Airport. The journey takes approximately 30 minutes.
The City Line runs from 06.00 a.m. to midnight every day.
**Airport Pick Up or Drop Off Service is available at THB 1,500 per trip (5 people+driver with luggages)**